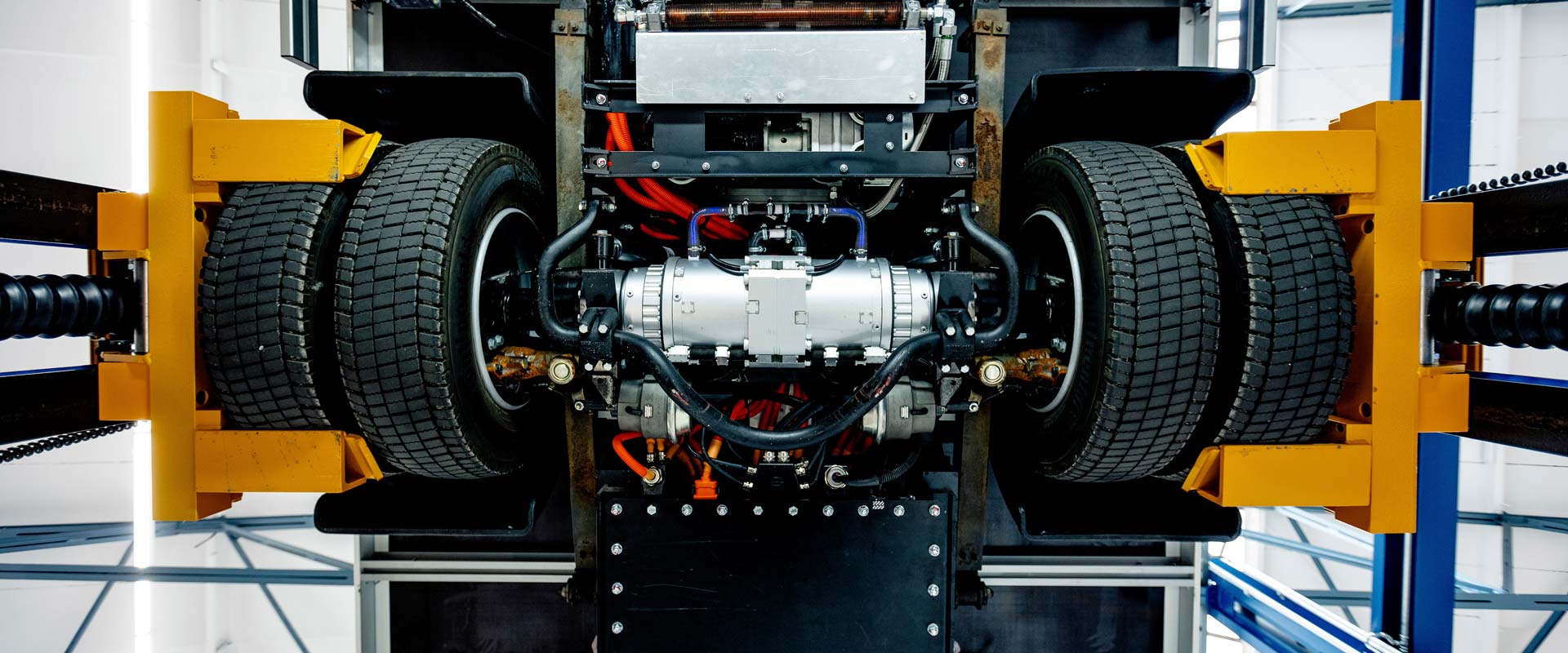 Holistic thinking – for holistic solutions
Modularity, lightweight construction, sensors and networking: BPW uses every available opportunity to make transport and logistics more sustainable. These efforts produce a noticeable reduction in consumption, wear, downtime, traffic jams, diversions, noise and exhaust emissions, as well as empty running.
A prime example of this holistic thinking is the new 'ECO Air' running gear generation. The running gear and axle systems are now produced digitally. They are more modular and can be used with greater versatility, whilst also being lighter and therefore more economical than ever. Their digital DNA ensures more efficiency throughout the entire life cycle – from configuration through to maintenance and spare parts ordering.
Transport companies and their drivers can always rely on BPW. The modular design of the running gear systems provides protection against long periods in the workshop, as individual components can be replaced in the event of repairs or maintenance, rather than entire modules.
BPW development engineers design the interfaces between components so that everything can be quickly and easily replaced. The modularity means that BPW running gear systems are also optimally equipped for the future.
This reliability and ease of repair explains the low operational costs and the high resale value of vehicles with BPW running gear: this is sustainability that pays.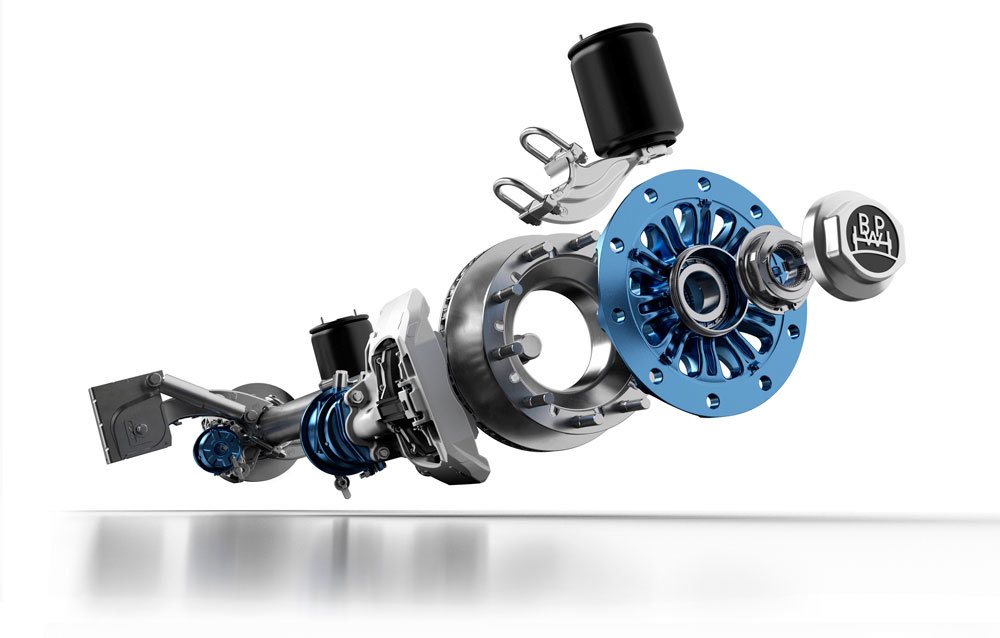 Running gear that delivers savings: lighter vehicles, greater usable load, reduced emissions
When it comes to transport, excess kilograms cause unnecessary emissions and cost the haulier in terms of fuel and usable load. BPW solutions are therefore designed to save the maximum amount of weight and to be as robust as possible. Lightweight solutions from BPW make a sustainable contribution to efficient transport – including when it comes to the additional weight added by the legally required exhaust gas treatment systems (EURO 6 standard).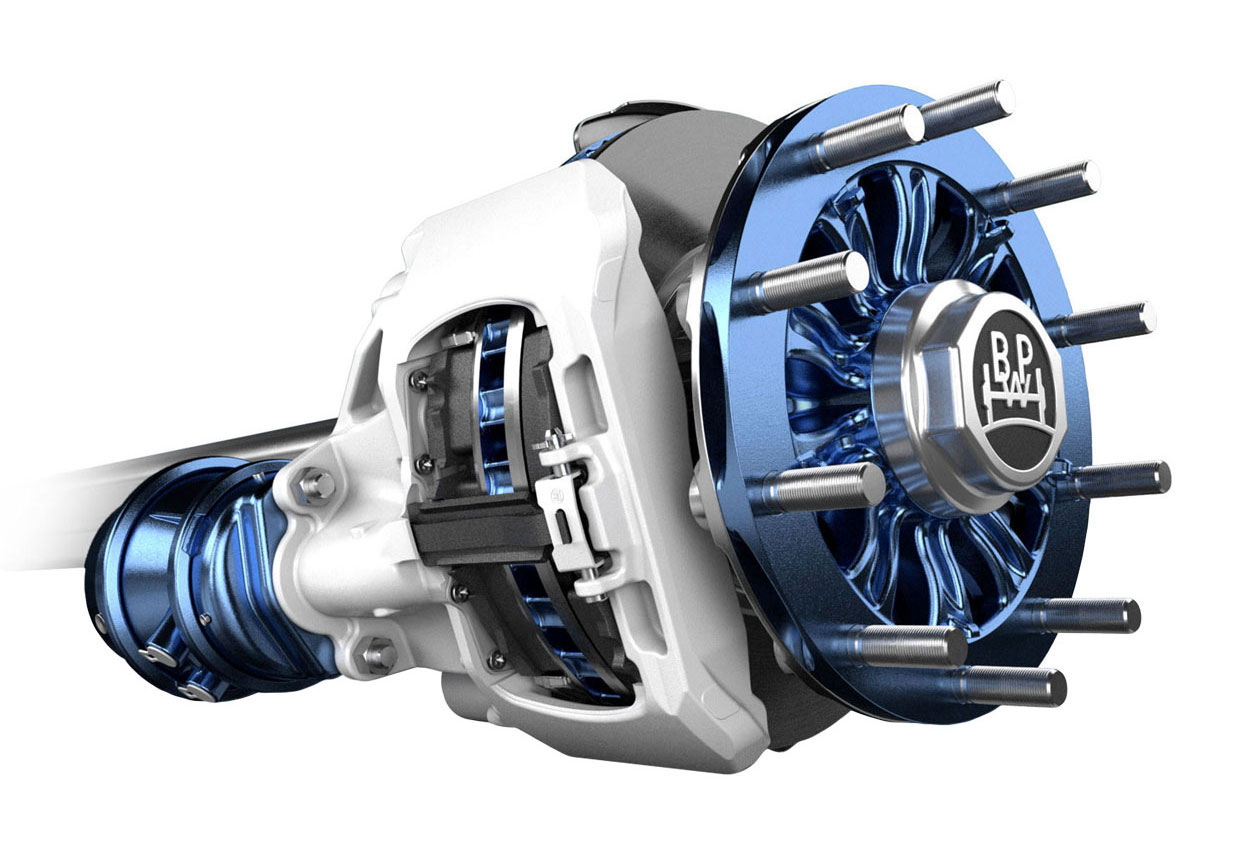 Saving of 27 kg: the new ECO Air running gear generation
BPW has revolutionised trailer running gear with ECO Air. It is more versatile in use, more robust and still five kilograms lighter than before. When combined with the new BPW ECO Disc TS2 trailer disc brake, users can even achieve a weight saving of nine kilograms, which equates to 27 kilograms in a tri-axle suspension unit. The new running gear is so tough that for the first time it can now be used both on- and off-road, for example on construction sites. BPW is making a big impact in reducing emissions and operational costs thanks to these weight savings.
Saving of 54 kg: the BPW alloy hub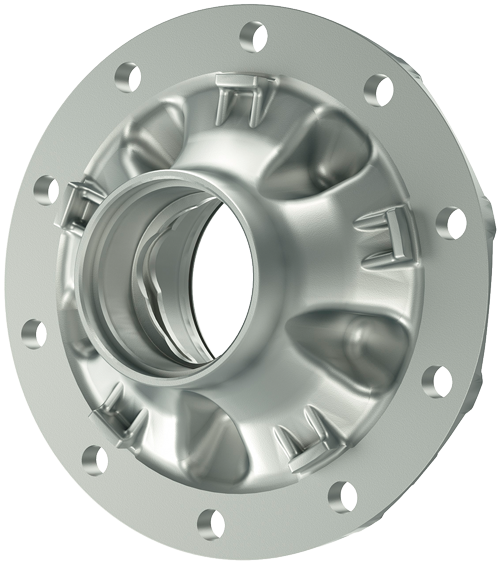 BPW offers a forged alloy hub for lightweight semi-trailers and in particular for tank and silo vehicles. The hub enables a weight saving of 18 kilograms per axle – or 54 kilograms in a tri-axle suspension unit. This corresponds to an additional load of around 64 litres of heating oil per journey, for example – which also reduces CO2 emissions. Fewer trips are then needed to transport a specific volume of cargo. Or to put it another way: less energy is used to transport the same load, thanks to the reduced weight of the vehicle.
Saving of 39 kg: the Light Tube trailing arm
The AIRLIGHT II running gear is lighter than ever before. The Light Tube trailing arm makes it even lighter still – saving a further 39 kilograms in a three-axle unit. Combined with the BPW alloy hub, it can even reduce the module weight to just 370 kilograms, which is unique in the sector. This means lower fuel consumption and reduced emissions, greater load capacity and an annual saving of around 900 euros per vehicle.
Transporting more efficiently, more safely and more intelligently with sensors
Accidents, diversions, thefts of cargo, as well as driving styles that consume materials and fuel are damaging for the climate and the environment – and cost the transport industry billions every year.
BPW and idem telematics are making the entire transport process more transparent, safer and more efficient with mechatronic innovations and the networking of drivers, freight and vehicles.
Sensors for load securing
Dangerously rolling and tipping drawbar trailers and devastating accidents are most often caused by incorrectly secured cargo – the authorities find this in around 70 per cent of vehicles that are checked. This is because truck drivers rely on their instincts and visual judgement when securing the cargo.
BPW has developed the iGurt as a load securing system that displays and documents the correct tension when cargo is being secured and throughout the journey. If the forces deviate, the driver is informed via a smartphone app. The solution was developed in close collaboration with hauliers and drivers and has been awarded numerous innovation prizes.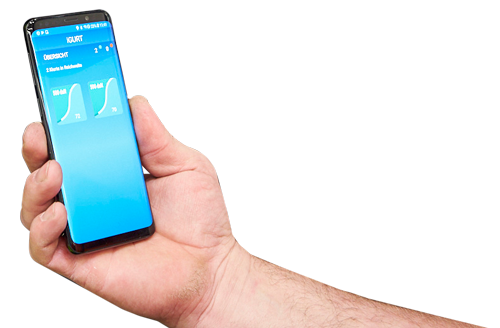 Sensors to save materials and fuel
Truck tyres have to withstand a great deal: load weights, road conditions and temperatures that are constantly changing can quickly lead to differences in air pressure that will rapidly wear out the tyres. If a tyre blows out, it can have unforeseeable consequences due to accidents and downtime. That's why BPW will in future offer a robust control system ex-works in the form of AirSave. This continuously measures the tyre pressure and keeps it in the correct range at all times, as even minimal losses of pressure will massively increase a vehicle's fuel consumption and emissions.
A tyre pressure deviation of just minus ten per cent from the prescribed value increases the fuel consumption by around 250 litres for an annual distance of 120,000 kilometres. That equates to 655 kilograms of CO2 that could be saved by using AirSave. In a three-axle trailer fuel and tyre savings sum up to cost benefits of 700 euros per year.
The AirSave system also prevents vehicle and delivery failures, protects the environment from unnecessary emissions – and reduces the number of discarded blown tyres at the side of the motorway
Sensors for safe manoeuvring
Office chairs and shopping trolleys owe their manoeuvrability to the principle of the self-steering axle. BPW puts this principle to good use to make the trailer more manoeuvrable than ever: this not only makes driving safer, but over a distance of one million kilometres also saves around 10,000 litres of diesel, 40 tyres, and more than 26,000 kilograms of CO
2
.
Combined with intelligent sensors and mechatronics, the trailer also makes light work of reversing. The new Active Reverse Control provides fully automatic control of the steering angle for reverse manoeuvres and is easy to retrofit – and it is now also available for low loader trailers. Drivers can now safely steer drawbar trailers in reverse: narrow loading ramps, petrol stations and other accident-prone driving situations no longer pose any problem.
Networking – for optimised use of energy and resources
Fewer trips that are empty or poorly planned, perishable and sensitive goods that arrive safe and fresh at their destination, production and transport processes that run like clockwork: there are many reasons to network transport processes – including to protect the environment and climate. BPW and idem telematics are making it easier to get started – with an open system architecture that also integrates third-party applications and hardware.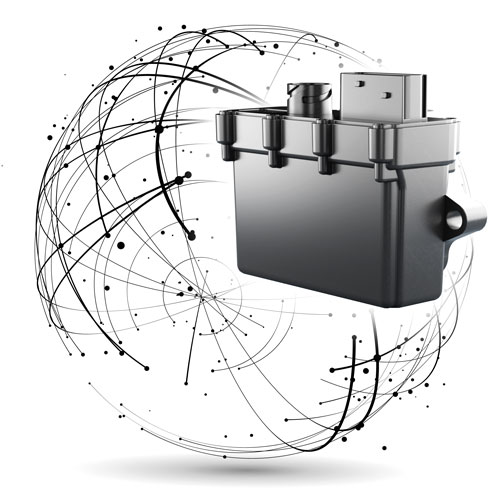 TC Trailer Gateway PRO: networking without a tangle of cables
The TC Trailer Gateway PRO on-board computer replaces hardware that previously had to be specially installed – and uses wireless data transmission standards to avoid tangles of cables. For the first time, signals from the door, cooling unit and tyres can be processed and controlled wirelessly and without the need for intermediate hubs, in both directions. This also halves the time needed for installation. idem telematics is thus making original equipment installation and retrofitting easier and is contributing to a widening market acceptance of trailer telematics.
And the more systems there are in use, the more efficient – and more environmentally friendly – transport becomes.
TC Solar: networked with the sun
Solar cells give the telematics system a self-sufficient power supply that is independent of the towing vehicle. This means that swap trailers can even be networked via telematics if they are parked but are not currently being transported, for example. The power supply via TC Solar means that swap trailers can also be secured with an invisible 'digital seal', eliminating the need for labour-intensive processes with physical and lead seals.
CargoTracer: networked flows of goods and synchronised production processes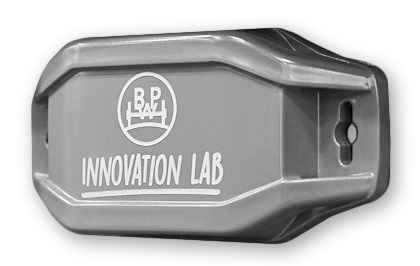 Online parcel tracking is something that consumers have come to expect. In the commercial sector, this is still in its early stages – not just because the goods tend to be larger and heavier, but mainly because they pass through various hands and points on their way from A to B. Transport could be made much more efficient here – for example with the synchronisation of warehousing, transport and production processes.
The BPW Innovation Lab has now developed the CargoTracer system, which is so inexpensive, straightforward and versatile that it not only networks transport processes, but also uses a new ultra-narrowband radio network to locate vehicles or even other moving objects.
This may include, for example, expensive construction machinery – or valuable, specially made carriers that need to be transported back to the sender but are often accidentally left with the recipient and forgotten.
The settings for when, where and how often the CargoTracer sends reports can be individually configured. As it only needs small amounts of data for this, the system is low-cost and energy-efficient, and the battery lasts for around five years.
Electromobility: diesel is out; the electric axle is in
The 'eTransport' electric drive, which is integrated in the axle, has won numerous innovation prizes and is now being installed in Wiehl production. The conversion of Mercedes-Benz Varios has now begun at Paul Nutzfahrzeuge. BPW is also working with several partners to investigate the full range of application options for electric trucks – such as in courier vehicles, general freight logistics, municipal use or even in modular new vehicle concepts with RWTH Aachen University.
City logistics is a highly promising area of use: the CO2 emissions of delivery vehicles in the 7.5-ton class amount to around 450 grams per kilometre in the inner city. That accounts for ten tons per vehicle annually, plus nitrogen oxides, particulates and noise pollution.

The 'eTransport' system is particularly efficient. The synchronous motor that is used reaches a level of efficiency of over 80 per cent – more than double that of combustion engines (35 per cent). This reduces the energy costs by up to 50 per cent. The electric motor also requires much less maintenance than the diesel. As the drive sits directly in the axle, it even makes the vehicle significantly more manoeuvrable.
The efficiency will be increased even further in future as the vehicle will automatically detect its state of loading and will control the power required for this. BPW uses the battery systems of the BMWi3, which are powerful, responsibly produced and can be reused later, for example for stationary storage.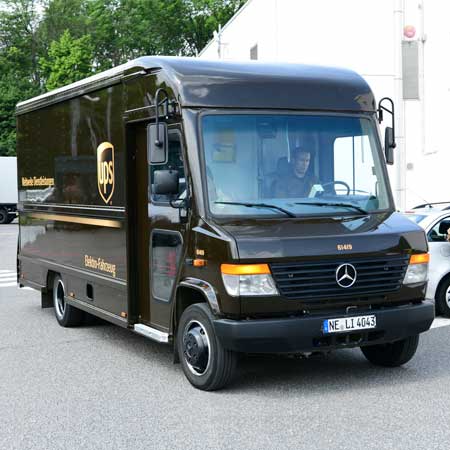 UPS: moving lab for CEP logistics
UPS and BPW are working together to test the use of the electric axle drive in central Cologne. Paul Nutzfahrzeuge has converted one of the familiar brown and gold 7.5-ton delivery vans from diesel to electric drive for the trial. With 3,290 newton metres per wheel, the drive technology from BPW produces almost ten times the torque of an average four-cylinder combustion engine and copes with the high payloads, heavy superstructures and steep gradients that are typical in municipal use.
Photo: Olaf-Wull Nickel
BSR and AWB: clean transport in the city
The specialist conversion company Paul Nutzfahrzeuge installs the BPW axle drive primarily in diesel to electric conversions of special-purpose municipal vehicles. The city waste management companies AWB in Cologne and BSR in Berlin are already using their first converted vehicles. The conversion is proving worthwhile as it gives the expensive vehicles a second cost-effective and zero-emission life – eliminating the need for fuel, lubricants and expensive maintenance intervals. During the conversion, the interiors and exteriors of the vehicles are refreshed and they can then be used for many more years.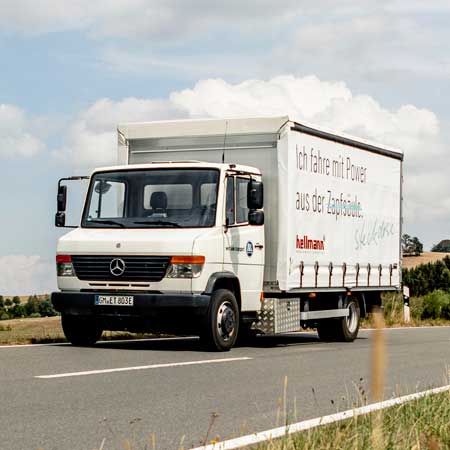 Hellmann: electric mobility in general freight logistics
How do electric delivery vehicles work in general freight logistics? How can the logistics processes be optimised for this? Hellmann Worldwide Logistics, Osnabrück University of Applied Sciences and BPW are using a field test to investigate the use of an electrically powered van in various topographies and with varying trip configurations for inner-city deliveries in the German towns of Lehrte, Osnabrück and Bielefeld.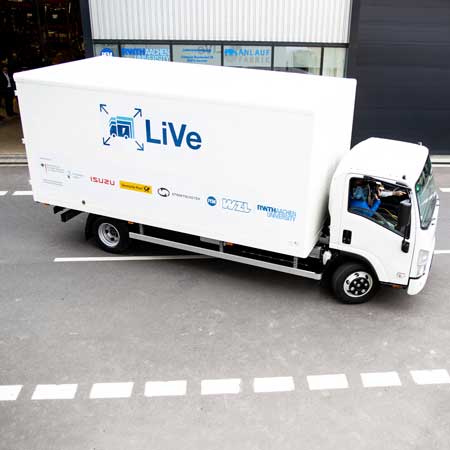 RWTH Aachen University: modular zero-emission truck
Researchers at RWTH Aachen University are developing a modular system for the electric truck of the future. Its centrepiece is the electric drive axle from BPW. For this project, the 'Chair of Production Engineering of E-Mobility Components' (PEM) at RWTH Aachen is working with Isuzu Motors Germany, StreetScooter and the RWTH Aachen machine tool lab. The project is funded by Germany's Federal Ministry for the Environment, Nature Conservation and Nuclear Safety through the 'Renewable Mobility' programme.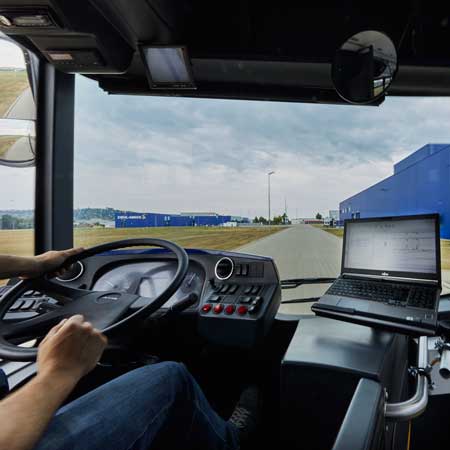 Ziehl-Abegg: BPW portal axle for electric buses
With the ZAwheel electric hub drive, ZIEHL-ABEGG is enabling energy-efficient drive systems for buses, without diesel fumes and noise. The drive is suitable for use as original equipment and in conversions for city buses, airport buses and double-decker sightseeing buses. BPW developed a compact low-floor portal axle for ZIEHL-ABEGG so that the electric drive can be delivered as a complete axle drive module ready for installation.
Supplier management:
product responsibility only works in a team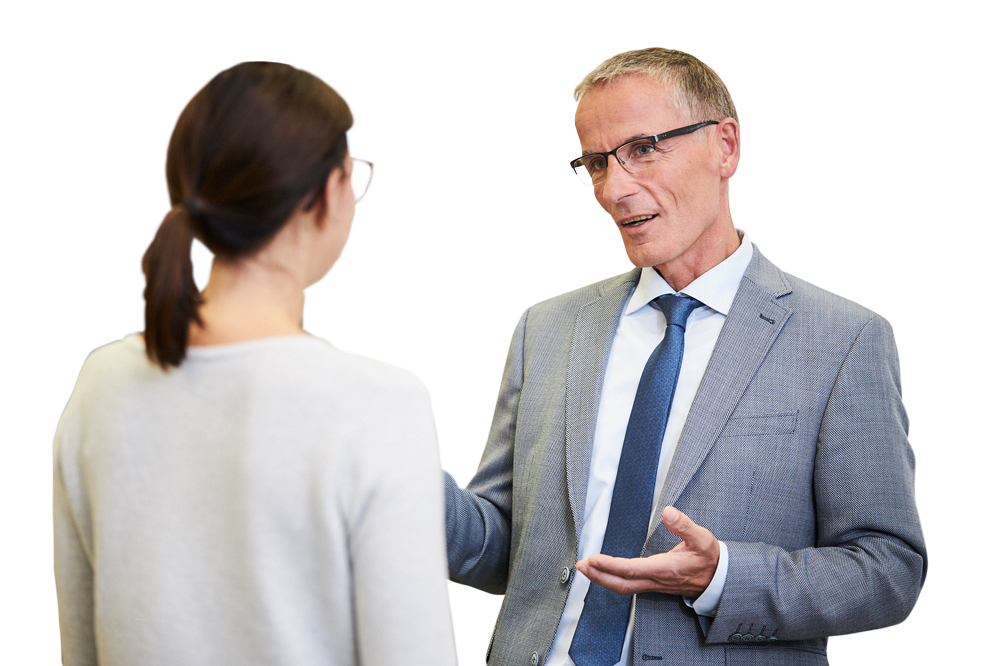 BPW concludes comprehensive agreements with its suppliers to guarantee the quality and sustainability of raw materials, upstream products and components. All suppliers are therefore obliged to comply with rules on occupational safety and environmental protection, laws on chemicals and hazardous substances as well as machine safety standards.
BPW also expects continuous improvement in environmental efforts, such as compliance with DIN ISO 14001 and/or Regulation (EC) No. 1221/2009 of the European Parliament and of the Council (EMAS). BPW partners also commit to the RoHS EC directives and REACH Regulation, which prohibits the use of hazardous substances. In 2019, BPW expanded its supplier contracts and purchase conditions to also cover children's rights and child labour.
New criteria for the supplier audit
BPW's suppliers are regularly audited according to defined criteria. Supply Chain Management has developed a new audit concept that looks at the topics of occupational safety, energy conservation, CSR, the Global Compact and child labour.
The supply chain managers audit up to 50 suppliers every year and they began applying the new criteria in spring 2019. By the end of 2019, around 15 per cent of suppliers will be audited in line with the new requirements and it is expected that all suppliers will be subject to the new audit criteria by 2025.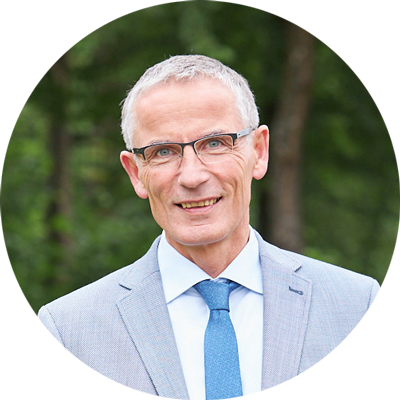 'In SCM, we also look at our suppliers' sustainability in our audits. We conduct 40 to 50 audits per year to verify, for example, whether they comply with the ban on child labour, whether legally relevant laws and regulations are being upheld, whether they guarantee occupational safety and to what extent our CSR initiatives are in effect with the supplier.'
Jürgen Bremer, Supply Chain Manager (SCM) BPW Group
Certified: quality at the highest level in the automotive industry
BPW is certified to IATF 16949:2016 and so fulfils the highest standards of quality in the automotive industry with respect to product, process and service quality. Certification confirms that the company fulfils comprehensive requirements with regard to risk management, compliance, environmental protection, energy use and occupational safety, among others. Beyond commercial vehicle industry standards, the IATF standard itself is the highest level in the automotive industry. The BPW Group specialist in composite material solutions, HBN-Teknik from Denmark, has also been certified in accordance with IATF 16949:2016 since June 2018.